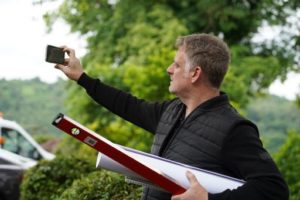 As a garden design and landscaping briefing consultant, Gareth works closely with clients to understand their vision and requirements and develop this into a full design with detailed specification. Some clients have very clear ideas from the start, and others wish to be inspired. Most clients are seeking advice on design and materials to support the way they want to use their gardens, and to ensure durability, within physical and budgetary constraints.
The "design brief" is a detailed guide as to how the garden must be built. It is passed to the contractor who builds the garden. It ensures clear understanding between client and contractor so that the work produced matches expectations.
Gareth can be appointed either by the client, who separately appoints a contractor – a landscaper – to build the garden according to the brief, or he can be appointed by the contractor. In either scenario, Gareth is bringing over 30 years', award-winning, landscaping experience to support both parties in achieving superb results.